LE MIROIR DU CLUB.
L'Eglise de notre village,
"nous sommes juste en face"
The Church of our village,
 " We are just opposite "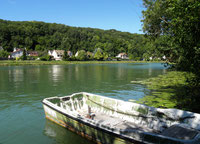 Deux  autres vue de notre village, sympa non ?
Two more views of our village, isn't that nice?
INFORMATIONS.
1)  Dans la page "LIENS", rubrique NOS FOURNISSEURS, sur le Site de COP - PROJECT vous trouverez tout ce dont vous avez besoin pour l'initiation à la sculpture à base de  résine, ainsi que des ouvrages s'y rapportant.
2)  Toujours dans la page "LIENS", une nouvelle adresse Fournisseur, RP - MODELS, en visitant leur Site, nous sommes époustouflés par la qualité et la précision de la sculpture. En grossissant les photos, nous distinguons très nettement la trame des fils qui représentent les tissus. Vraiment, les détails sont étonnants de précision et de netteté. Ces modèles ne peuvent sortir  que d'une imprimante 3D. 
3) Ajout d'un nouveau lien pour la fabrication des décors (arbres, herbes,végétaux). Dans la page  "LIENS", rubrique "FORUM  ET DOCUMENTATIONS" puis, " GRAND TUTO DES DECORS".
INFORMATION.
1) In the page "LINKS", section OUR SUPPLIERS, on the COP - PROJECT website you will
find everything you need for the initiation to resin-based sculpture, as well as related works.              
2) Always in the page "LINKS", a new address Supplier, RP - MODELS, by visiting their Site,
we are amazed by the quality and precision of the sculpture. By magnifying the photos, we
can clearly distinguish the weft from the threads that represent the fabrics. Really, the details
are amazingly precise and sharp. These models can only come out of a 3D printer.
3) Adding a new link for the manufacture of the decorations (trees, grasses, plants). In the
page "LINKS", section "FORUM AND DOCUMENTATIONS" then, "GRAND TUTO DES
DECORS".
PROCHAINES REUNIONS et MANIFESTATIONS
SAISON 
2020 - 2021 
COVID - 19
 LES REUNIONS
SONT SUSPENDUES 
JUSQUE A NOUVEL ORDRE
 25 avril 2020 à 14h00
NEXT MEETINGS and EVENTS
SEASON
2019-2020
COVID  - 19
THE MEETINGS ARE SUSPENDED UNTIL
FURTHER NOTICE
LA NOUVEAUTE DU MOIS.
US AIR FORCE - 
Pilote sur F 14 « TOMCAT » 1976.
Par
Fred QUETIER
US AIR FORCE
Pilot on F 14 "TOMCAT"
By
Fred QUETIER
VERLINDEN Résine  110 mm
NOUBLIEZ PAS DE VISITER LA GALERIE DES MEMBRES DU CLUB, ET SI VOUS AVEZ LE TEMPS, LAISSEZ VOS IMPRESSIONS DANS LE LIVRE D'OR.
MERCI D'AVANCE.
DON'T FORGET TO VISIT THE MEMBERS' GALLERY, AND IF YOU HAVE TIME, LEAVE
YOUR IMPRESSIONS IN THE GUESTBOOK.
MANY THANKS IN ADVANCE.